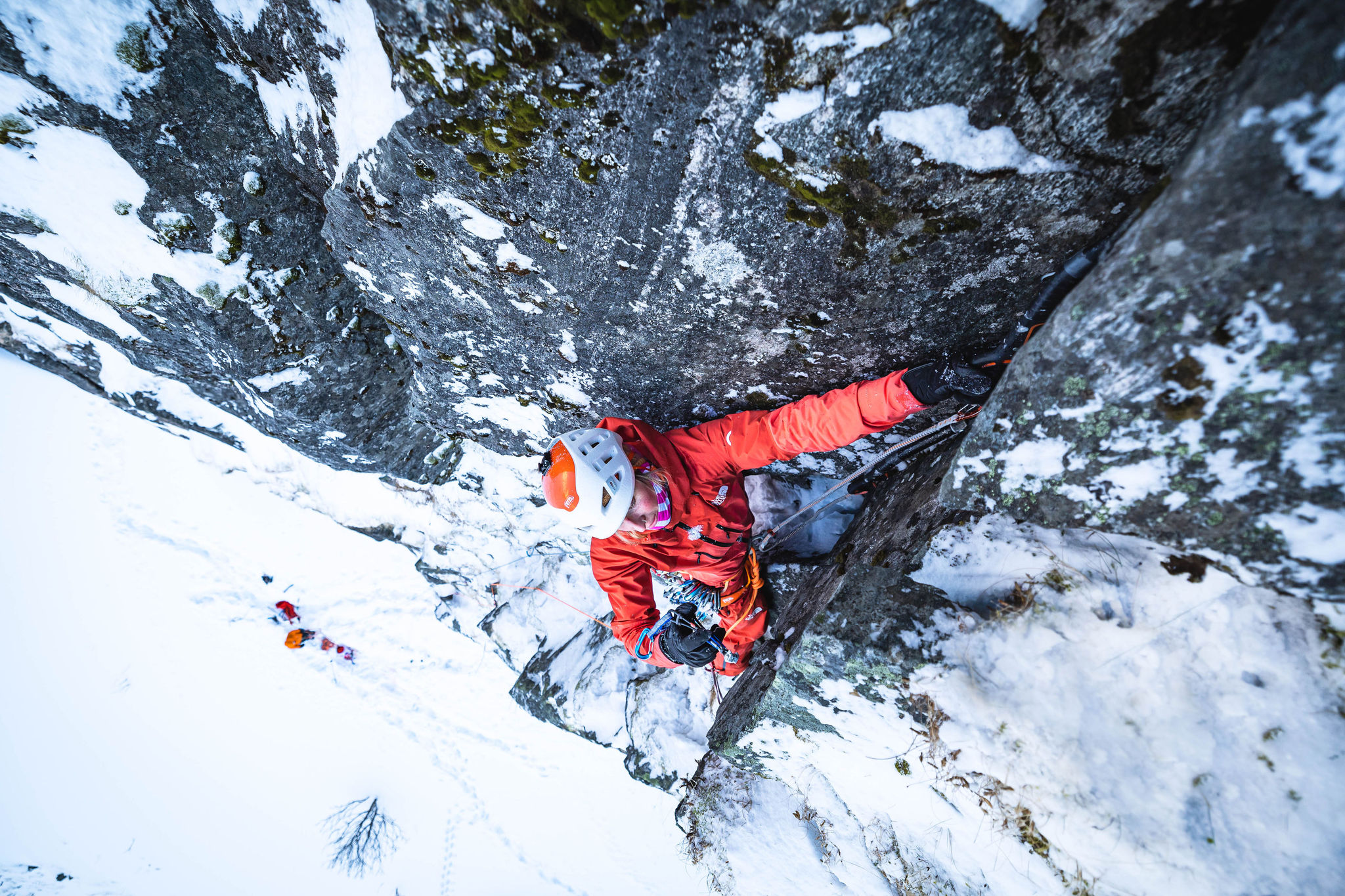 Having spent most of my previous winter seasons climbing in the mountains I call home, Chamonix Mont Blanc, the untouched and wild feel of these destinations left me feeling beaten yet satisfied. This winter I have been fortunate enough to travel to two of the harshest yet most captivating places for mixed climbing in Europe, Scotland and Norway.
The Fjords of Norway, from a boat . Photo by Jan Virt
Climbing in such close proximity to water, especially in winter, feels surreal. There aren't many mountains that offer this combination of elements which make being there even more special.
I found climbing in Scotland and Norway to be a great experience, unlike anything I'm used to. Here I talk about my 5 main reasons why it was such a great (though sometimes frustrating) experience. I hope you find these useful if you venture into these environments (I really suggest you do)!
1. A slave to the skies
The climates of Scotland and Norway result in pretty variable weather patterns, particularly in winter. One day you can be climbing ice and the next it might have melted away. The skies can be blue when you begin your ascent but you find yourself in a white out at the top. You need to be flexible and able to react to the changing forecast and you certainly don't plan further than 2 days ahead. Check the forecast the night before and then again in the morning, when looking out the window it might be somewhat different still.
For me being in Scotland and Norway was about having to make quick last minute decisions and being adaptable as a mountaineer. The mountains are lower which means that only one or two degrees change in temperature can make the difference of the first pitch being wet with rain or dry and dusted with snow.
2. Shifting objectives in the lower mountains
Over the years I have become accustomed to long alpine routes that require a high level of endurance – where it is more about conserving my energy and making sure I can get through every pitch, reach the summit and make it down safely afterwards. In Scotland and Norway the mountains are a lot lower with less height gain.
I loved the challenge of trying much shorter yet harder climbs on these lower mountains. There is no battling the altitude, less concern about a long grueling descent nor the lingering fear of missing the last lift. I can afford to spend most of my energy on just 4 pitches, for example, and maybe I lead only half of these. I am not climbing my pitch worrying that if I get too pumped I won't have enough energy to finish the route, I can climb full power with all my mental energy and push my limits to my full potential.
Fay climbing in Scotland. Photo by Line van den Berg
3. Evolving one's repertoire
When climbing in the higher mountains, I can reliably either use cams or ice screws. But in Scotland for example, the cracks get wet and then freeze, riming up with ice. This is where static protection like peckers and hexes come in good use. Being able to place all kinds of gear makes me feel much more capable of going anywhere and trying to climb anything within my grade in winter.
The terrain in Norway felt quite traditional, I found very few cracks and was mainly throwing slings around small rocks and boulders. At some points I was even using trees and branches for protection! It was good to have a range of cams which made me feel more comfortable to climb hard as I am more familiar with this type of protection.
The Black Totem cam proved absolutely invaluable in Norway, it proved to be the perfect size for smaller parallel cracks hidden by powder snow.
4. Same planet yet otherworldly
I still can't get over the view when the mountains are situated right next to the ocean, "breathtaking" doesn't do it justice and you really have to witness it yourself to understand what I can't express in words. .
In Norway, you can be atop a mountain and gaze out over the fresh, crystal clear, bright blue water, punctuated only by the shimmering, glistening reflections of the mountains – the very mountain you're clinging to. The brightness of the colours and the sight truly feels otherworldly.
There is a romanticism to Scotland's lochs, nestling amongst rugged mountains and the glens carved out by ancient glaciers surrounded by craggy hills. When the weather is clear, you can see for miles and wonder at the uninterrupted beauty of the wilderness.
5. Good things come
This winter has taught me a lot about patience. Nothing comes easily when dealing with such changeable weather.
In the Alps, I am accustomed to winters with day after day of clear blue skies and sunshine. Norway and Scotland, by contrast, have days of perpetual drizzle, not even rain. Instead of procrastinating on my inability to climb, I would venture into the towns and experience the culture they have to offer..
I take for granted that in the Alps I can most likely get a lift up high and climb in a light snowfall without getting soaking wet on an approach. There isn't that luxury in Scotland and Norway, there are essentially no lifts and the ascents start from the ocean, fjords or lochs.
But the climbing Gods are good and rewarded my patience with regular breaks in the weather that allowed for truly spectacular climbing experiences.
Fay climbing in Norway. Photo by Jan Virt
So I have concluded
The anticipation of the climb, constant weather watching and checking gear over… and over… and over… in readiness are far outweighed once that break in the weather comes.
The fact that it isn't easy and that you have to play the waiting game ultimately make climbing Scotland and Norway a completely different experience – one that I will cherish and repeat many times to come.
Text: Fay Manners